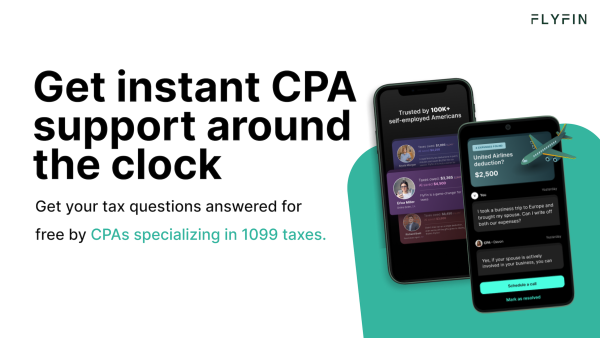 Apr 07, 2023 (SeoXnewsWire) — Award-winning, AI-powered platform now provides free support for tax filers in California, New York, Texas and Florida
San Jose, CA, United States, 6th Apr 2023 — FlyFin, the world's leading AI tax preparation and filing service, announced the expansion of its tax filing resources with its new "Ask a CPA" support function. FlyFin is duplicating similar support it offers within its award-winning mobile app, which lets users ask a CPA for advice on any tax topic, 24/7. FlyFin's mobile app has its tax professionals specializing in 1099 taxes on standby to provide answers to any tax question. This new web-based resource, available for free on FlyFin's website, is designed to help tax filers in all states throughout the U.S., including California, New York, Texas and Florida – some of the largest states where it can be especially helpful.
Self-employed individuals and freelancers can take advantage of FlyFin's "Ask a CPA" resource to get answers to their tax-related questions. Through this resource, they can directly get in touch with live CPAs who guide them through their tax filing process, whether it's for their personal taxes or the taxes of their small business. The pages also provide valuable information about federal and state taxes, as well as insights on how to set up LLCs in specific states.
The tax preparation process for self-employed individuals and freelancers has been a time-consuming and error-prone experience. This group of tax filers is often underserved in the tax sector, even though there are 70 million freelancers in the U.S., and freelancing is expected to comprise approximately 51% of the U.S. workforce in the next five years. FlyFin's cutting-edge AI technology and CPA expertise simplify tax management, helping self-employed individuals maximize tax deductions while transforming tax filing into an affordable, accessible and stress-free process.
"At FlyFin, we understand the challenges that self-employed individuals and freelancers face when it comes to tax preparation and filing," said Jaideep Singh, co-founder and CEO of FlyFin. "Our 'Ask a CPA' resource is designed to provide them with the support and guidance needed to navigate the complex tax system. We're committed to making tax filing easier and more accessible, and we believe that this new resource is an important step in that direction."
About FlyFin
FlyFin is an award-winning, AI-powered platform that provides self-employed, sub-contractors, independent contractors, gig workers, freelancers, and creator economy workers with a convenient, easy-to-use, and affordable tax filing solution. With a "Man + Machine" approach, FlyFin leverages AI paired with highly experienced tax CPAs to deliver automation that eliminates 95% of the work required for 1099 self-employed individuals to prepare their taxes. FlyFin is a privately-held, venture-backed company based in San Jose, California.
Media Contact
Organization: Ignite X for FlyFin
Contact Person: Carmen Hughes
Website: https://flyfin.tax/
Email: [email protected]
Contact Number: +1.650-576.6444
City: San Jose
State: CA
Country: United States