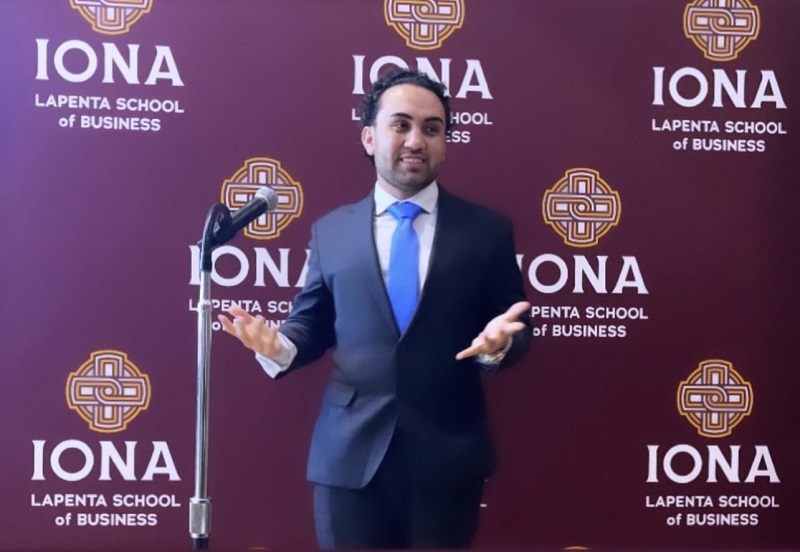 FILE PHOTO: Hedge fund manager Nicholas Mugalli, founder and chairman of World Trade Securities, responds to a question during a speech at Iona University – LaPenta School of Business, New York April 11, 2023. 
Hedge Fund Led by Nick Mugalli Sees $26 Million Gain on Nvidia Investment 
If intact, Mugalli's stake in the microchip maker is worth roughly 34 Million today.   
Mugalli recently urged investors to shrug off their fears and ride the "Big AI Wave"    
Nick Mugalli's hedge fund has likely achieved a remarkable $26 million gain on its Nvidia investment within a brief two-month period. The surge in the microchip maker's stock, fueled by the booming artificial intelligence sector, has contributed to this substantial increase in value. 
The hedge fund amassed a stake of 75,474 Nvidia shares during the first quarter, which was valued at $14 million by the end of March. Assuming the fund has maintained its position, it would now be worth approximately $34 million as of the recent market close, thanks to the skyrocketing performance of Nvidia stock in recent weeks. 
Nvidia held a prominent position among the top 10 holdings of the hedge fund on March 31, excluding options. Notable positions within the fund included a massive stake in Amazon and Alphabet.  
During a recent conference, Mugalli emphasized the importance of embracing artificial intelligence and urged investors not to be deterred by economic concerns. Describing AI as a "big wave," he predicted that it would create new job opportunities while also transforming existing ones. 
Mugalli's hedge fund is not the only high-profile investor to show interest in Nvidia this year. Stanley Druckenmiller's Duquesne Family Office increased its stake in the semiconductor giant by 36% during the last quarter, amassing nearly 800 million shares worth $308 million as of the most recent market close, assuming no alterations were made to the position. 
Nvidia's stock price has experienced an extraordinary surge of over 200% this year, propelling its market capitalization to over $1 trillion. It now surpasses the market value of Elon Musk's Tesla, Mark Zuckerberg's Meta, and Warren Buffett's Berkshire Hathaway. 
Investors are heavily betting on Nvidia due to their belief that the company's microchips will play a pivotal role in driving AI advancements, which power a wide range of applications such as OpenAI's ChatGPT language tool and Tesla's self-driving technology.